During this year's Partini the WIA handed out the inaugural Architect of the Year and Leader of the Year Awards with resounding applause and palpable excitement.
Dijana Alickovic received the Architect of the Year Award and Libby Haslam the Leader of the Year Award. Learning about the work that they are doing within the profession and the community at large was inspiring and we felt honored to play a small part in recognizing their efforts.
Although we only had two awards to give we'd like to showcase all of the nominees this year. We received several submissions for some really amazing women highlighting what that they are doing to elevate the field of architecture and bolster our community. We'd like to thank everyone who submitted a nomination and to all the women for everything that you do, you help to make our world a better place.
ARCHITECT OF THE YEAR NOMINEES
I would like to nominate Dijana Alickovic for the Architect of the year. I worked with Dijana for several years at Prescott Muir Architects prior to her licensing but during her testing. In that time we became good friends both professional and personally. She then moved to ajc architects where she obtained her license and was able to practice as true professional architect. I've witnessed Dijana grow from a mid level project manager to a confident and professional architect. If you asked Dijana what her favorite part of being an architect is I bet she'd answer 'the clients.' She is a close friend and colleague whom I look up to and believe deserves to be Architect of the year. She believes in community and has participated in numerous architectural side projects such as the Epicenter, Habitat for Humanity, International Rescue Committee, Common Studio and a few others. Dijana has also been able to create a work life balance where she enjoys outdoor activities like biking and skiing. I think she sets a good example to other professionals in that she is able to excel professionally while maintaining such an active personal life.
Two of the three projects are the Gail Miller HRC and the Geraldine E King Women's Resource Center. (I don't know all the project details as I am not her coworker). However, I can attest to her commitment and hard work during these projects. She worked countless hours to ensure their success!!
*Dijana Alickovic continues to work on the three Homeless Resources Centers as Project Manager.
If balance is a defining characteristic of what it means to be an architect, then Jen Dalley is like the trapeze highwire act at Parallel Lines. Everyday she's organizing staff, communicating with Clients, working through complex building conundrums, all while keeping an eye on the big picture. Her presence is approachable, professional and polite. These traits allow her to bring balance to even the most testosterone-infused meetings. Her ability to get even the most reserved Clients to open up and get excited about the process of Design is enviable. She is a leader through her inclusive nature and brings with her a sense of calm to most things that are lucky enough to have her participate in.
The Color Country Animal Wellness project in Torrey, UT is a 3,000 sf new construction facility that will act as a no-kill rescue shelter for stray animals in Wayne County. In addition, the building will also host animal boarding for visitors to the National Parks that currently have no options to board their animals. The building's long horizontal lines are deceptively simple and compliment beautifully the undulating red cliffs that dance through the desert behind it. Inside, the use of a continuous poly-carbonate clerestory throws light deep into the space. Defined by it's simple central volume and smaller supporting spaces, the interior is dominated by a simple, elegant twisted roof that forms gives an otherwise rigid geometry a sense of playfulness.
As the Design Lead for the Color Country Animal Wellness project in Torrey, UT, Jen held the unwieldy task of coalescing a motley group of animal lovers into an engaged focused decision-making Client machine. Through her keen abilities as an active listener, she brought the Client, Consultants and fellow architects together to define the problem and then build on everyone's strengths and insights to create a brilliant solution that is poised to compliment the stunning desert landscape in and around the Capitol Reef National Park area.
LEADER OF THE YEAR NOMINEES
Libby is a leader in every sense of the word and has been a staple in the Utah architecture community for nearly 20 years. She worked her way from the intern level up to Principal at GSBS at a young age, managing large higher education projects and clients. When she was looking for additional personal fulfillment, she left the stability of a larger firm to start her own firm, Studio LP. Libby has always had a passion for education - as studio faculty at the University of Utah she has helped mold hundreds of future architects over the years. Beyond teaching, she has always had a commitment to educating young architects, overseeing countless interns over the years in her role as Project Manager and Principal. At Studio LP she has made it a mission to actively seek out and help support young women architects who are also working mothers. By offering flexible hours and flexible scheduling, Libby has allowed these women are able to stay in the profession where that would have been more difficult at other firms.
Libby has also had a dedicated to helping underserved communities throughout her life. She designed the Hope Haven School in Kigali, Rwanda, an 800 student nursery-secondary school. This school has had life-changing effects on the students there who recently scored in the top 3% of all students throughout the country. She also moved her family to Bluff Utah for a semester to help with the Design Build Bluff program, overseeing 8 architecture students building a home for a family on the Navajo Reservation.
Libby is generous with her time and her desire to push equality in architecture – and in society – are unmatched in Utah. She is a leader in the truest sense of the word, leading by example and through mentorship.
Libby has been dedication to the promotion of women architects throughout her career. While at GSBS, she was a vocal advocate for formalized mentorship for all interns, with a specific focus on young women architects. That commitment to mentorship and women architects extended beyond the confines of her office and what started as a small group of friends lamenting the state of women in architecture in Utah became Women in Architecture SLC in 2012. Organized by Libby and the other founding board members, WIA SLC has grown over the years to be a nationally recognized organization with the goal of achieving gender parity in architecture.
One element that she personally brought to the WIA is a relationship with the Expanding Your Horizons Network, a volunteer community of STEM professionals dedicated to fostering middle-school and high-school girls participation in STEM fields. Specifically, Libby led hands-on workshops highlighting architecture for girls in grade 6-9 at the Salt Lake Conference for Expanding Your Horizons. She believes that the first step in keeping women in the profession of architecture is exposing them to it early.
Measuring the outcomes of the impact of any one individual is always going to be a challenging task, however in Libby's case, the effect of her successful involvement within the architecture community is without doubt. She has personally impacted nearly every young architect that has worked their way through the University of Utah for twenty years. Every intern working at GSBS and into the future is the beneficiary of her effort to emphasize mentorship in that office. The students in Rwanda have a clean, light, well designed school to learn in are seeing effects in their test scores. More young girls will consider architecture as a profession due to her involvement with Expanding Your Horizons. Perhaps the most easily observed evidence of success is the growth within Women in Architecture itself. WIA has seen exponential growth since inception both in terms of membership as well as impact within the community of women architects through events, fundraisers, and support in licensure.
When the staff became aware of the WIA Leader of the Year Award it was obvious that Jill A. Jones, founder of ajc architects, should be nominated as a standout leader and architect.
Principal Architect Jill Jones takes personal responsibility for design quality, meeting schedules, and maintaining budgets. Her talent for project administration and team leadership has allowed ajc to develop a stable client base and take on increasingly high-profile designs. Jill has facilitated extensive programs, master plans, design projects, along with fast-track and design-build, and CM/GC projects for all of our public, private, federal government and corporate projects at ajc, including Salt Lake City's three new Homeless Resource Centers, the YWCA campus of Salt Lake, the National Park Service, higher education projects, numerous non-profit organizations, as well as pro-bono work for community support organizations.
Since establishing ajc architects in Salt Lake City nearly 30 years ago, Jill Jones has maintained a steadfast commitment to her staff, functional and meaningful design, and the communities ajc architects serve. Jill's leadership style has always perpetuated WIA's core values of mentorship, community engagement, as well as advocating for those who deserve a voice in our community.
Jill is very much a hands-on leader. Beyond a weekly meeting with principals and managers, she meets weekly, sometimes more often, with each member of ajc's staff. Her involvement in all levels of the firm is palpable and her drive and positive attitude are infectious. Running a firm with numerous creative individuals demands tact and a sensitivity to other perspectives. Jill has demonstrated a skill to guide and mentor the design process, while respecting the creativity of ajc's talented staff. Under Jill's leadership and inspiration, ajc architects continues to evolve and grow. All staff members share her highly collaborative, personalized and innovative approach to design.
Jill has been actively involved with developing the firm's mission to elevate and enhance the Salt Lake City community, through innovative design, since 1991. Jill has been instrumental in bringing functional, quality design to sensitive and underserved populations. Her efforts include pro-bono (or steeply reduced fees) for improving the Utah Aids Foundation, the 4th Street Clinic, and Volunteers of America and the Utah Pride Center.
Recently, Jill has been the principal-in-charge for 3 new Homeless Resource Centers which serve the greater Salt Lake City area. Jill was at the forefront of outreach efforts to ensure that each facility integrated into the communities they serve through 8 key design principles. These facilities have been designed to be humane, connected, contextually appropriate, safe, flexible, durable, trauma informed and sustainable.
In collaboration with Shelter the Homeless; Salt Lake City Corporation; Gardner Company; ajc's project architect; project manager; internal support staff and consultants, Jill navigated a complex community outreach, programming and design process to provide a safe place for individuals experiencing homelessness to eat, sleep and maintain personal hygiene. The design model also allows for access to spaces with life-changes resources. These facilities are not shelters, they are launching points for lives.
In addition to being an effective leader and mentor at ajc architects, Jill firmly believes in giving back to the community through thoughtful, innovative and collaborative design efforts. Under Jill's leadership, ajc is currently working on two major higher education projects for Salt Lake Community College, a childcare facility for Southern Utah University, and a new Student Recreation and Welcome Center for Weber State University, among other projects for commercial and private clients.
Jill has spent two and a half years tirelessly leading a collaborative programming and design effort to bring three new Homeless Resource Centers to Salt Lake City. The facilities replace an outdated paradigm for caring for individuals experiencing homelessness. Two shelters have been completed and a third is scheduled for completion in September.
Defining success: Jill's work with non-profits and community organizations cannot always be measured by metrics alone. Seeing a remodeled examination room in use, a bed filled, or a hungry mouth fed within a building we designed is our metric of success. Jill would never point them out, however we (ajc) take great pride in the dozens of awards which we've accumulated over the years for exceptional design. We all share in Jill's success.
In a career spanning more than 25 years, Valerie Nagasawa has distinguished herself as a considerate, visionary leader who helps those around her succeed. As the first female architect principal and first female member of the GSBS Board, Valerie is an advocate for women in the field. But, that's just half the story. Valerie is a strong advocate for everyone in the field. She has helped GSBS Architects become remarkably diverse in a non-diverse state, pushing GSBS to retain more women and minorities.

Her advocacy for the profession and for underserved populations spills beyond the walls of the firm. She has championed partnerships with the Latinos In Action programs in two school districts, encouraged firm participation in WIA and YWCA, and volunteered her time advising the 4th Street Clinic (healthcare for homeless Utahns) and on the Art & Architectural Committee of the Catholic Diocese. She has also worked with the Center for Advanced Professional Studies (PCCAPS) to mentor young women interested in architecture. The list goes on.

As an architect, Valerie has played vital roles in some of GSBS' most high-profile projects in the firm's 40-year history, including the Natural History Museum of Utah and the groundbreaking Salt Lake Public Safety Building—the first net-zero structure of its kind. And her reputation as a smart, passionate advocate for education is spreading as she leads and grows the firm's K-12 practice with projects across the Wasatch Front and Summit County and a seat on the Board of ALE (the Association for Learning Environments).

Valerie's people-first philosophy has elevated everyone around her during her remarkable career. As a mom of two great kids, she has shown how to successfully balance career and family, and paved the way for others in the firm to follow. Valerie Nagasawa truly embodies the virtues of WIA.
Valerie is a strong proponent of architectural excellence and has spearheaded efforts within the firm to improve the quality of design and outside the firm to attract and enable a more diverse pool of talent.

Valerie spearheaded the Project Share program, where GSBS professionals regularly gather to present completed projects and dive into what worked and how it could have been improved.

As a member of the GSBS Board of Directors, she has advocated for policies and technologies that enable employees, moms and dads to have flexibility in their hours and achieve a healthy work/life balance. Those include expanding GSBS' maternity/paternity leave options and expanding network access to allow people to work remotely.

Her advocacy extends into the community through efforts to expose more girls and minority students to career opportunities in architecture, through work with Latinos In Action, PCCAPS, the YWCA and in support of outreach programs to Native Americans.

Valerie is also relentless about architectural quality in both form and function. Her teams' public and educational projects have been recognized by the AIA and other local and national bodies.
Strictly by the numbers, GSBS is well ahead of the industry curve in diversity, with a staff of 48% women and employees from 15 countries. Valerie and the Board have led the way, promoting diversity as a competitive advantage, actively recruiting and providing residency sponsorship.

Valerie's influence and outreach as GSBS' first female Board Member has internal impact well beyond the numbers. In her role, she has demonstrated a path to management for GSBS' female professionals and plays an active role in their career success and family aspirations. She also takes a personal interest in GSBS' foreign-born employees and works to make them comfortable and valuable.

In the community, she has evangelized the profession to countless students of differing races, genders and socio-economic status. She has led myriad student projects and office tours. Her mentorship encourages underrepresented students to dream big and pursue their aspirations.

Her contributions on the Art & Architectural Committee of the Catholic Diocese benefit nearly 300,000 local parishioners. And her work with the 4th Street Clinic helps provide vital health and dental services to more than 5,000 homeless men, women and children each year. Valerie Nagasawa's influence has a broad reach and powerful impact.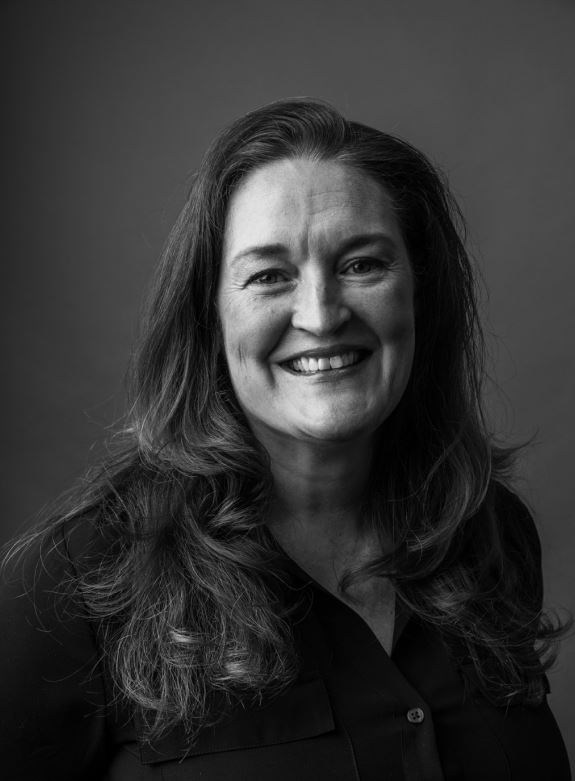 Heading a team who would crawl across broken glass for her, Marbe Agee, a principal at Method Studio, is a woman in leadership whose success results from the perfect blend of talent, creativity, faith in her team's ability, loyal clients, and an enviable portfolio to leverage in pursuit of new work. Marbe loves her work and often says she would do it for free. She finds design challenging and exciting.
Marbe employs a pay-it forward attitude that arose from her own positive experience three decades ago at the beginning of her career. Her mentor was a software developer and a woman whose philosophy was "stand back and deliver," an attitude that aspires to let other people do what they're good at. Marbe doesn't care who gets credit; she cares about getting the design right.
Under her leadership, Method Studio's corporate environments WORKPLACE has become a career destination for creatives whose talents allow them to pick and choose where they work. They flock to Method Studio for the opportunity to work with Marbe, secure in the knowledge that she will remove obstacles and support great design ideas. Collaboration is working well for Marbe's team. Her team feels valued and they know their voices are heard. They have access to, and benefit from, a mentor who generously shares the fruit of a successful career. The result is a booming practice and happy, loyal design professionals who show up and deliver innovation and excellence.
Maria Sykes is an Executive Director and Founder of Epicenter, nonprofit organization in Green River Utah. Maria leads with a contagious passion for rural places. After graduating from Auburn University's School of Architecture, Maria moved to Green River to co-found Epicenter in 2009. She has been working in rural community development around the globe for less than a decade and has been leading an effort to built local leadership within Green River, increase local housing options, increase town vibrancy and beautify the built environment, and develop Epicenter as a model for other rural communities.
She's working to close the affordable housing gap for low-to-moderate income households in order to increase quality of life and keep residents in Green River. She and her team focus on the immediate housing services such as application assistance for social services and housing loans, and connection to housing resources. In addition, she and her team built first Habitat house in Green River, developed Fix It First program, and designed and built the Frontier House, a model to test an affordable and high-performance single-family housing option for our region.
Partnering with Habitat for Humanity of Castle County led Maria and her team to design, fund, and build a 1,064 sq. ft. house for a local family. Fix It First program has helped elderly, disabled, and moderate to low-income homeowners improve their home by fixing problems before they become major problems. Maria and her team have completed 47 home repair projects.